Öffne deinen Player (iTunes, Winamp, Media Player, iPod etc.).
Stelle ihn auf "Shuffle" bzw. "Random".
Drücke "Play".
Schreibe für jede Antwort den Songtitel, der gerade gespielt wird, auf.
Drücke für jede neue Frage den "Next"-Button.
Lüge nicht und tue nicht so als ob Du cool wärst! Tipp's einfach ein!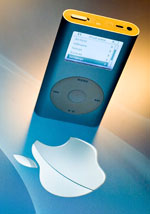 Na gut, dann wollen wir mal:
Vorspann
The Weather Girls – It's Raining Men
Guter Anfang.
Aufwachen
Sash! – Adelante
Bin ja schon wach. Jetzt schon.
Erster Schultag
Spin Doctors – Little Miss Can't Be Wrong
Und sie sollte Recht behalten.
Verlieben
White Lion – When The Children Cry
Na, so schlimm war's nun auch nicht.
Das erste Mal
Ronan Keating & Jeanette [Biedermann] – We've Got Tonight
Wie passend…
Kampflied
DJ Tiesto – Adagio For Strings (Original LP Version)
Hm. Die tanzbare Variante eines Themas aus "Apocalypse Now".
Schluss machen
Bruce Springsteen – Because The Night
Na dann.
Abschlussball
Fettes Brot – Jein
Ich weiß auch nicht. Ja. Nein. Jein.
Leben
Peter Kent – It's A Real Good Feeling
Ich denke, das passt auch 😉 Meistens zumindest.
Nervenzusammenbruch
Eagles – I Can't Tell You Why
Eben. Ich Dir auch nicht.
Autofahren
America – A Horse With No Name
"On the first part of the journey…"
Flashback
Billy Idol – Flesh For Fantasy
Ohne Worte.
Hochzeit
Lenny Kravitz – Again
Nein, das war meine erste Hochzeit. Ich schwöre.
Geburt des ersten Kindes
Duran Duran – Wild Boys
Au weia. Das kann ja was werden. Gleich mehrere? Alles Jungs?
Endkampf
Curtis Stigers – I Wonder Why
Das habe ich mich auch schon immer gefragt.
Todesszene
Steinwolke – Katherine, Katherine
Oh my gosh. So wollte ich dann doch nicht sterben.
Beerdigungslied
Kaiserbase – (Berlin) Du bist so wunderbar
Das passt dann schon eher wieder. Adieu, Berlin. Noch 4 Wochen.
Abspann
Robin Beck – First Time
Das Lied hätte eigentlich an anderer Stelle besser gepasst. Aber sei's drum.
Gefunden bei PapaScott. Weitere Soundtracks hier.
Foto: Oliver Lavery, licensed under CC (flickr.com) on 02/17/2007
Dieses Stöckchen darf bei Interesse in Selbstbedienung abgeholt werden. 😉