Good-Bye FRA, Hello SFO!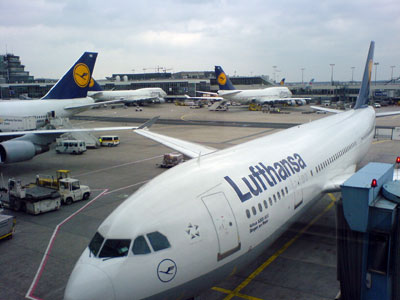 I left FRA much too early yesterday morning although departure was 40 minutes delayed because we waited for passengers from other Lufthansa flights. When I checked in my luggage, Lufthansa charged me a 40 Euros extra fee because one of my two bags exceeded the weight limit (25 kgs istead of 23 kgs), although the total weight was still within the 46 kgs range…
The flight was really calm and as far as I noticed nobody around me was hacked off because of the new seat belt regulations on Lufthansa flights. The flight took about 11.5hrs so we arrived around 1:30 pm (while the in-flight entertainment system wasn't properly set up for daylight saving time, but the movie I saw ("A Good Year") was OK) and I made it through immigration (thanks to the RFID passport), baggage claim and customs in about 20 minutes.
Fred picked me up at the airport and we spent a nice afternoon together. Although I went to bed late I woke up in the middle of the night when the jet lag kicked in. I hope that's getting better during the next days.