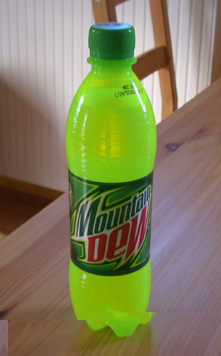 One thing I really missed from living in the U.S. once I returned to Germany was Mountain Dew, a caffeinated soft drink from PepsiCo. (Yeah, of course I also miss the low gas prices, the great Californian weather, 24-hours stores…)
I couldn't believe my eyes when I saw Mountain Dew bottles in a fridge at the local Shell gas station in Biberach this morning. It seems a little bit overpriced (1.49 EUR / 2.20 USD) for 0.5 l / 17 fl oz., but it tastes soooo good 😉 Grab it while it's hot.
Update: Mountain Dew
is also available on Amazon.de
!