You know how it is with geeks. Give them something shiny, new with buttons and fancy sound effects ("swooooosh") and they'll love it. Same goes for software: give them a piece of code glued together that perfectly serves its purpose – awesome.
One of the applications I really love and use all the time is the Firefox web browser.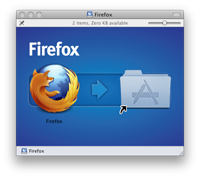 Unfortunately, things turned out to be a little nasty on OS X since Firefox reached version 3.6. When I first upgraded, I noticed a bug that caused Firefox to open two windows when a link was clicked in another application. Not nice, but I could have lived with that until it's fixed.
Next, Firefox stopped working at all after I updated some add-ons. I tried to reproduce the problem and wanted to boil it down to a particular defective add-on. To be honest, I suspected Weave Browser Sync to be the culprit. I even tried starting Firefox with a fresh, empty profile and installed 2 or 3 other add-ons, several times in various order. Kaboom. No need to mention that even the Firefox nightly build was crashing on me. The solutions described in a related bug report unfortunately didn't help either.
The sad solution to my problem: I was downgrading to the latest version of the "old" Firefox 3.5 branch, namely Firefox 3.5.9. It does not have all the fancy new features of 3.6 and support ends in August 2010 but at least it's working. I'll try 3.7 4.0 when it's stable and hope the problem has been fixed then as others describe the same issue in various posts in the Mozilla forums.
Update: The problem seems to be fixed in Firefox 4.0 beta 1.